by Ryan Burge, Christianity Today, 4/19/19.
…The horizontal axis provides a good proxy for economic prosperity (gross national product per capita), while the vertical axis represents the overall level of religiosity in a nation.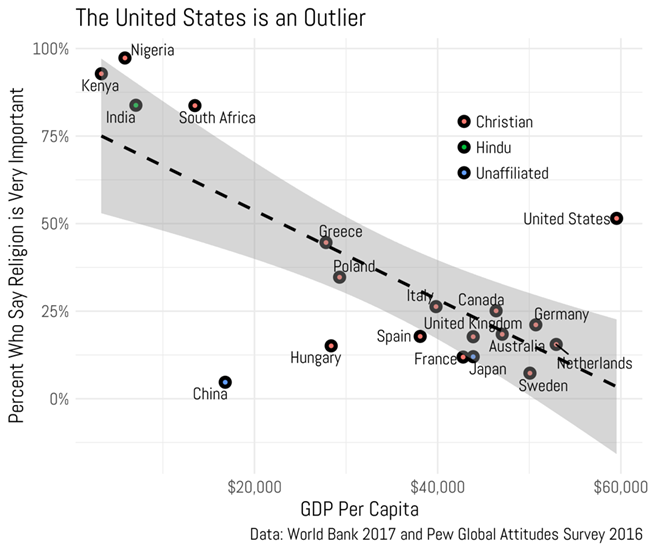 The conclusion from this graph is clear: the more economic prosperity a nation enjoys, the fewer citizens of that country say that religion is very important. There are a few outliers, however. China is in the bottom left portion of the graph, which means that based on the country's economic output it should be more religious than it currently is, with the same occurring in Hungary.
Obviously, both of those countries have a history that is closely associated with communism, which is the likely cause of their low levels of religiosity. On the other hand, the United States is clearly an outlier on this graph. It ranks as the most economically prosperous country in the dataset, but if it were going to be in the middle of the trend line, the overall level of religiosity should be very close to zero.
Instead, just over half of Americans think that religion is very important. The United States clearly bucks the trend of secularization when looked at from this angle.
There are two possible thoughts that emerge from this. One is that secularization is coming to the United States, it's just moving a little slower. The other is that somehow the U.S. is different and is the exception to secularization. Recent data on America's religious behaviors can help us understand what is really occurring.
Read more at … https://www.christianitytoday.com/edstetzer/2019/april/is-religious-decline-inevitable-in-united-states.html