by JENS MANUEL KROGSTAD, JOSHUA ALVARADO AND BESHEER MOHAMED, Pew Research, 4/13/23
… As of 2022, 43% of Hispanic adults identify as Catholic, down from 67% in 2010. Even so, Latinos remain about twice as likely as U.S. adults overall to identify as Catholic, and considerably less likely to be Protestant. Meanwhile, the share of Latinos who are religiously unaffiliated (describing themselves as atheist, agnostic or "nothing in particular") now stands at 30%, up from 10% in 2010 and from 18% a decade ago in 2013. The share of Latinos who are religiously unaffiliated is on par with U.S. adults overall.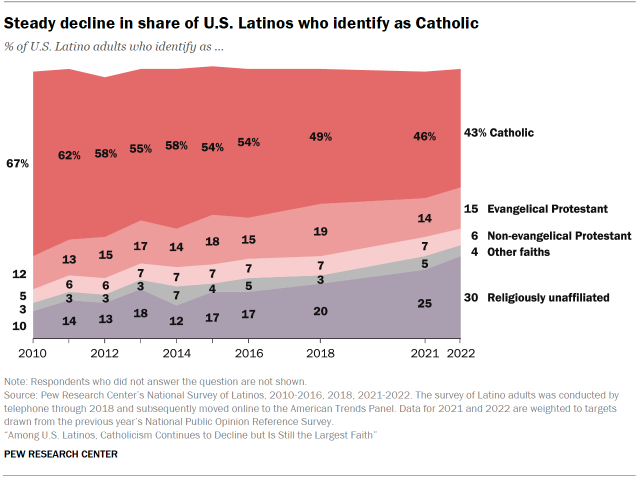 The demographic forces shaping the nation's Latino population also have impacted religious affiliation trends. Young people born in the U.S. – not immigrants – have driven Latino population growth since the 2000s. Among U.S. Latinos ages 18 to 29, 79% were born in the United States.1 About half (49%) of Latinos in this age group now identify as religiously unaffiliated. By contrast, only about one-in-five Latinos ages 50 and older are unaffiliated; most of these older Latinos (56%) were born outside the U.S.2 Overall, 52% of Latino immigrants identify as Catholic and 21% are unaffiliated. U.S.-born Latinos are less likely to be Catholic (36%) and more likely to be unaffiliated (39%), according to a 2022 Pew Research Center survey of Latino adults.
Protestants are the second-largest faith group after Catholics, accounting for 21% of Hispanic adults, a share that has been relatively stable since 2010. During this time, Hispanic Protestants consistently have been more likely to identify as evangelical or born again than to say they are not born again or evangelical.
Read more at … https://www.pewresearch.org/religion/2023/04/13/among-u-s-latinos-catholicism-continues-to-decline-but-is-still-the-largest-faith/?