by Ryan Burge, Christianity Today, 4/19/19.
…the bar graph below displays the percentage of each educational group that identifies as a religious "none" (atheist, agnostic, or nothing in particular).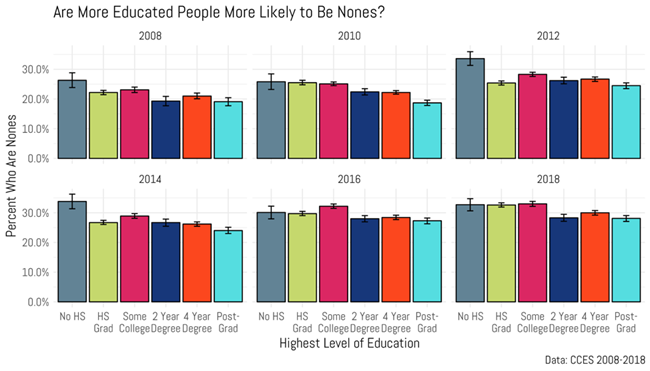 Educational attainment serves as a very good proxy for economic prosperity and provides a solid test of secularization theory. Note that each of the six waves of the Cooperative Congressional Election Study contain between 30,000 and 65,000 respondents.
The results are unambiguous: those with the least amount of education are consistently the most likely to identify as religiously unaffiliated. The far right bar in the graph, indicating those with a graduate level education are almost always the group that is the most likely to be religiously affiliated.
If one would like to argue that education is related to secularization, there is no evidence to support that conclusion to be found here.
However, there is a more specific way to approach this problem. The above graph lumps the entire sample into six education categories with little regard for whether they obtained their high school diploma in 1968 to 2008.
If secularization was a constantly accelerating process, we would expect to see younger people with graduate degrees unaffiliate at higher rates than their older counterparts with high levels of education. In order to test this, I broke the CCES 2018 sample into birth cohorts, which are created based on five year intervals.
Read more at … https://www.christianitytoday.com/edstetzer/2019/april/is-religious-decline-inevitable-in-united-states.html