Commentary by Dr. Whitesel: During the pandemic many churches have started to use Facebook and YouTube to stream their services and communicate with their congregants. And this is a good strategy to communicate with existing churchgoers.
Most of the younger generations are less frequent in their church going than their parents. And, they don't communicate through Facebook or YouTube. They know that's where the older generations are and they typically avoid them.
The under 30 crowd typically uses media forms such as Instagram, Snapchat and TickTock. Check out this article to find what they are listening to and then communicate through them.
Social Media Use in 2021
A majority of Americans say they use YouTube and Facebook, while use of Instagram, Snapchat and TikTok is especially common among adults under 30.
By BROOKE AUXIER and MONICA ANDERSON, Pew Research, April 7, 2021.
Despite a string of controversies and the public's relatively negative sentiments about aspects of social media, roughly seven-in-ten Americans say they ever use any kind of social media site – a share that has remained relatively stable over the past five years, according to a new Pew Research Center survey of U.S. adults.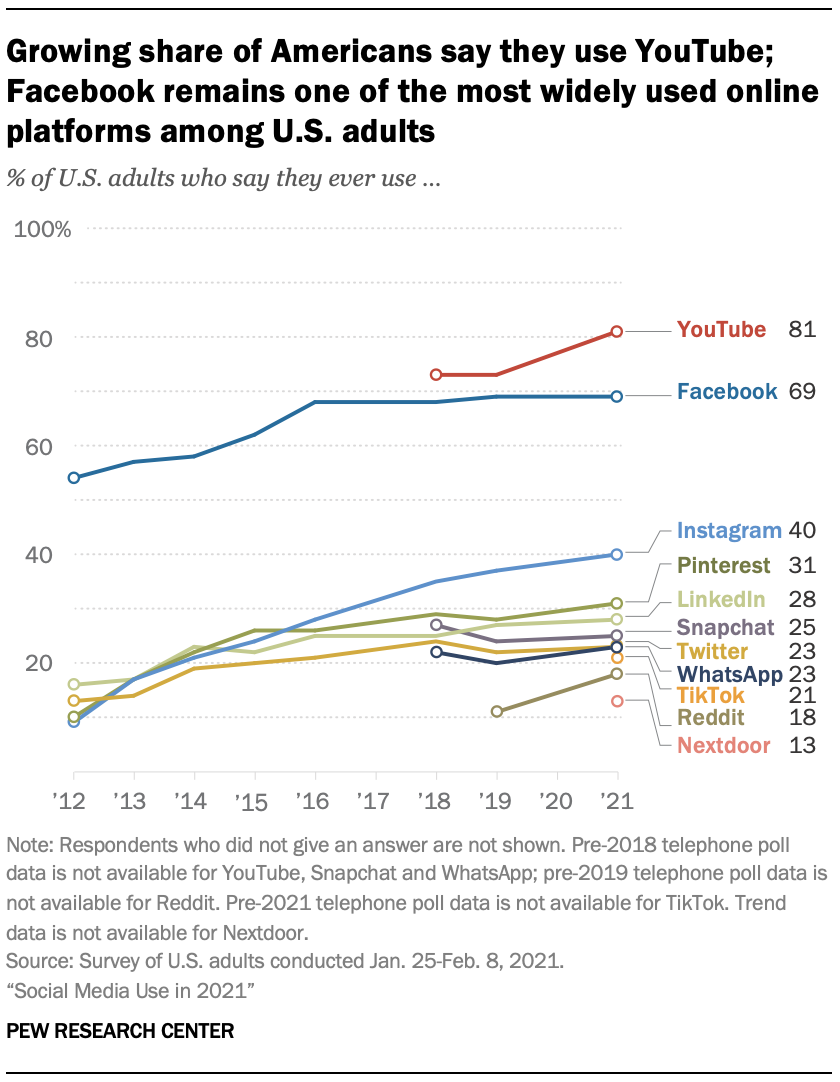 Beyond the general question of overall social media use, the survey also covers use of individual sites and apps. YouTube and Facebook continue to dominate the online landscape, with 81% and 69%, respectively, reporting ever using these sites. And YouTube and Reddit were the only two platforms measured that saw statistically significant growth since 2019, when the Center last polled on this topic via a phone survey.
When it comes to the other platforms in the survey, 40% of adults say they ever use Instagram and about three-in-ten report using Pinterest or LinkedIn. One-quarter say they use Snapchat, and similar shares report being users of Twitter or WhatsApp. TikTok – an app for sharing short videos – is used by 21% of Americans, while 13% say they use the neighborhood-focused platform Nextdoor.
Even as other platforms do not nearly match the overall reach of YouTube or Facebook, there are certain sites or apps, most notably Instagram, Snapchat and TikTok, that have an especially strong following among young adults. In fact, a majority of 18- to 29-year-olds say they use Instagram (71%) or Snapchat (65%), while roughly half say the same for TikTok.
Read more at … https://www.pewresearch.org/internet/2021/04/07/social-media-use-in-2021/