by Ryan Burge, The Exchange, Christianity Today, 4/26/19.
… The General Social Survey asked respondents about acting in selfless ways in a number of scenarios both in 2012 and 2014. Here are the eleven situations that were asked about on the GSS: gave blood, gave food or money to a homeless person, returned money after getting too much change, allowed a stranger to go ahead of you in line, volunteered for a nonprofit, gave money to a charity, offered a seat to a stranger, looked after plants/pets for others while they are away, carried a stranger's belongings, gave directions to a stranger, and let someone borrow an item of value.
Some of these actions are obviously more costly than other ones, but they all speak to a sense of genuine kindness and care for other people, which is something we should expect to see from Christians. So, how often do various religious traditions engage in each of these acts? The figure below tells an interesting story.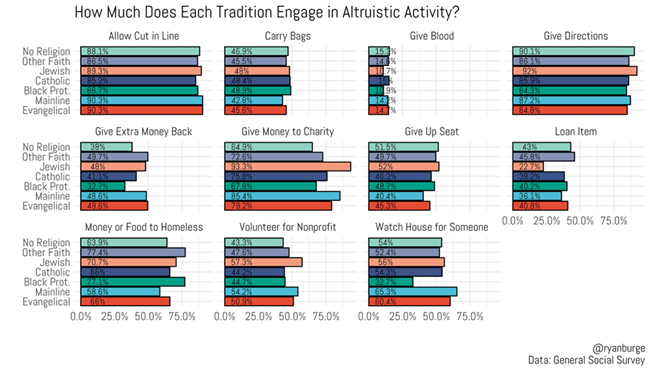 Note that there is not a lot of variation between the religious traditions.
…It may be helpful to look at places where evangelicals seem to do better than average. For instance, evangelicals are more likely to give money to charity than those who have no religious faith, but that seems like a somewhat unfair comparison because the offering plate is passed every week, while the nones have to take some initiative to make a donation.
This same is true for volunteering for a nonprofit. A significant departure also appears on the issue of giving extra money back to a cashier, where evangelicals are ten percent more likely to do so than religious nones.
There are other instances in which the nones are more likely to engage in altruism than evangelicals, though. For instance, nones are more likely to give up their seat to a stranger, as well as giving directions to someone. Taken together, it doesn't look like people of faith significantly differentiate themselves from those who claim no religious affiliation.
To further test this, I compiled an altruism scale by adding up all 11 items and scaling them from 0 (meaning engaging in zero altruistic activities) and 100 (engaging in each of these activities multiple times a week).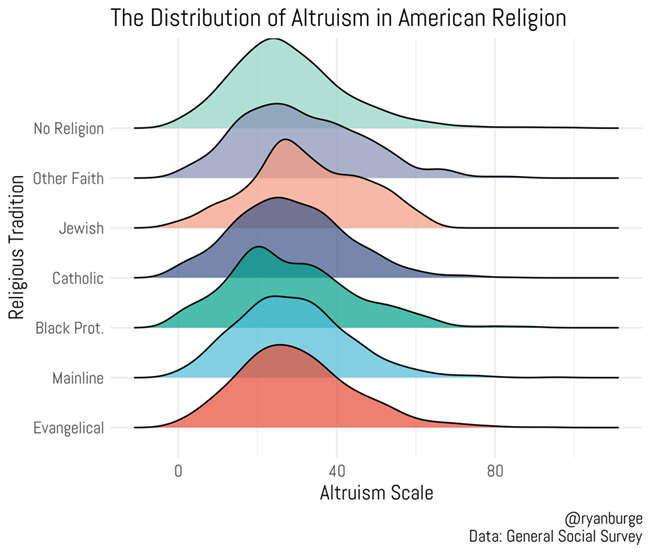 …The biggest takeaway from this graph is what is not here: there is no real difference in how many acts of altruisms occur among people of faith versus those who have no religious affiliation.
I was thinking that maybe what is happening here is that nominal Catholics are being lumped in with faithfully attending Catholics or that evangelicals who go once a year to church are being grouped together with those who attend multiple times a week.
So, I had to test that idea: the more devoted one is to religious faith, the more likely one is to engage in acts of kindness to other people. The graph below splits each tradition into low-income and high-income groups because some of the acts would obviously be less costly to people who make more money (donating money, etc.).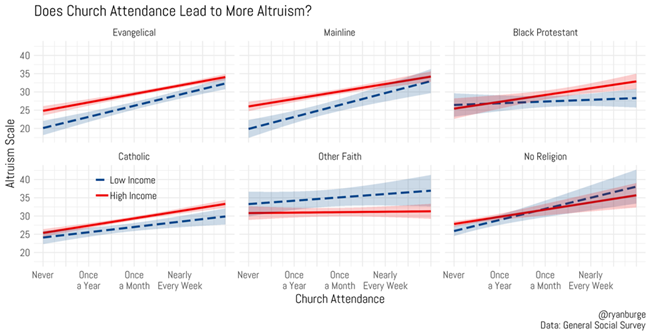 As one moves from left to right we should expect to the line rise up, which would indicate higher scores on the altruism scale. That's what we generally find—the more people attend services, the more altruism they engage in.
…However, the bottom right panel, which is those of no religion provides a startling result. First, note that for those nones who never attend, they act altruistically just as frequently as other Christian groups.
Read more at … https://www.christianitytoday.com/edstetzer/2019/april/are-evangelicals-more-altruistic-than-other-groups.html